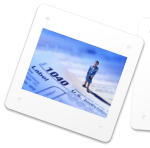 Berman and Sons, Ltd ~ Accountants & Consultants
Admitted to Practice before the Internal Revenue Service ~ Accredited Business Accountant ~ Accredited Tax Advisor

Sponsored by other agency or business, no affiliation or representation of Berman and Sons Accounting, or Dennis W.
Berman or any agent represented by him or the firm.

Copyright © 2020 Berman and Sons, LTD. 16147 S. Lincoln Hwy., Plainfield, Illinois 60586
Referral Drawing
You can win up to six, $100 cash prizes. All you have to do is refer a "New" client to us for tax preparation.
"New" means we did not prepare their 2018 tax return. Simply fill out the referral card enclosed and give it to the
prospective client. Ask them to present it to us when we prepare their return and the card will be entered into the April
17th drawing. We will pick six winning referral cards. There is no limit as to the number of entries you may have. If you
want additional referral cards, please call or pick them up at our office.

Mailing Address
Berman and Sons, LTD.
16147 S. Lincoln Hwy.,
Plainfield, Illinois 60586
Phone: 815-439-8000
Fax: 815-439-8308
Accountants & Consultants
Memberships & Affiliations: Independent Accountants Association of Illinois, Illinois CPA Society,
National Association of Enrolled Agents, Accreditation Council for Accountancy & Taxation.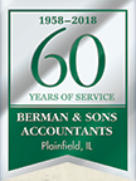 16147 S. Lincoln Hwy., Plainfield, Illinois 60586
Phone: 815-439-8000 Fax: 815-439-8308